By Customer Type
Government
DijlaNet is the communications provider of choice for the Iraqi government, foreign Embassies and aid organizations. DijlaNet designs, builds, maintains and manages citywide and countrywide wireless networks on behalf of Iraqi government entities that require their own secure communications network. DijlaNet deployed its first Iraqi government network on behalf of the Kurdistan Regional Government (KRG) in Sulaymaniyah in 2004. DijlaNet built a citywide wireless network to provide low-cost broadband Internet services to the government ministries, the University, and all other schools in the city. With an up time of close to 100% since early 2004, the DijlaNet Sulaymaniyah citywide network has been hailed by one of Iraq's most respected leaders as "A model for the Middle East." DijlaNet also deployed multiple citywide wireless networks with satellite backhaul across numerous cities in Kurdistan on behalf of the KRG in Erbil.
THE ADVANTAGES OF DIJLANET'S GOVERNMENTAL NETWORKS INCLUDE:
DijlaNet designs, installs, maintains and manages the entire network from start to finish, from deployment of equipment to bandwidth management.
One secure, closed, efficient network connecting all the government's sites in Iraq to each other and to the outside world.
Multiple Internet applications: secure email, voice, videoconferencing, security cameras, databases, etc.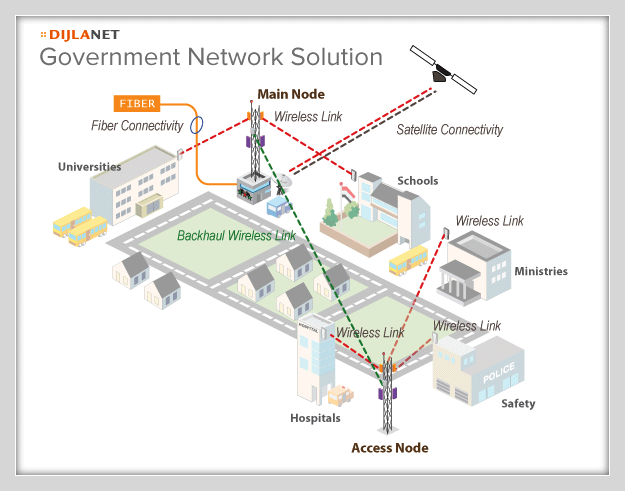 Please click on DijlaNet Platinum for a description of our dedicated wireless service, and DijlaNet Satellite for information on our remote satellite services.